Recent Achievements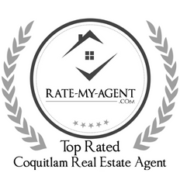 Top 10% Real Estate Board MLS Medallion Club 2022
Elite Award for Outstanding Achievement in Sales 2021
Masters & Diamond Sutton Awards
TCYP Young Professional of the Year Finalist 2021
Tricities Chamber of Commerce Committee Member
Three Best Rated Realtors in Coquitlam 2023
Awards: Elite Award 2021 for Outstanding Achievement, additional awards include Presidents Award and Directors Award, Three Best Rated Coquitlam Realtors
Background: Sales & Negotiation, Economics
Where I Call Home: Port Moody (previously Coquitlam, Port Coquitlam)
Building Genuine Relationships, Working With Integrity, and Creating Real Estate Success Stories
Hello – I'm Mariko and I am realtor and partner at Bridgewell Real Estate Group, based out of Blue West Realty. I am all about building personal relationships, effective communication, and aggressive sales to get the job done. My unique combination of education, experience, customer service relations, negotiation expertise, and market knowledge make me the perfect match for your home selling or buying challenges and goals. 
My Drive & a Bit More About Me! 
Meeting new people every day and hearing their stories, their dreams, and being able to re-locate them to their perfect home or sell their home in most innovative way is what I live for. I find it extremely exciting that I am given the opportunity and responsibility to help so many different people reach milestones in their life through real estate. I understand that real estate is one of the largest financial decisions someone has to make, and I really enjoy providing my clients with the feeling that I am serious about them and their goals and that, to me, they're not just a number. 
My #1 goals are to listen, communicate, educate, and then move you one step closer (or hopefully many steps!) to your financial goals, and ultimately, freedom. 
I am extremely passionate about educating buyers and sellers (and sometimes other realtors!) about the real estate process via the online and offline world, and write all of the content for the Bridgewell Blog!  
My Clients & Expertise
I tend to work with a lot of people who appreciate honesty and hard-work. My clients are the type of clients that are looking for an excellent customer service experience, and are also looking for guidance when it comes to the market, negotiations, and contracts.
Because I deal a lot with educating people via the blog, the type of clients I often work with are looking for someone that is willing to take the time to explain things to them so they can make an educated decision. For that same reason, I am often working with people that are selling or buying as a big milestone, such as first time home buyers, first time home sellers, investors, and downsizers. My clients appreciate that I'm able to be forward, informative, and upfront, while still being able to keep the fun in real estate alive. 
My Favourite Neighbourhoods
My main focus areas are the Tri-Cities; however I work extensively in New Westminster, Burnaby, Pitt Meadows, Maple Ridge, Surrey, and Vancouver as well. I've lived in every city throughout different times in my life so I know the ins and outs! I love the potential and growth of each city, and their development over the years. I am fascinated by change, the market, and its analysis – and on top of that I am passionate about educating my clients. My knowledge of the market is deeply rooted in my education in Economics and former conveyancing experience dealing with real estate contracts.
My Home & Where I Live
Right now I'm living in Port Moody right around the Burrard Inlet. It's a borderline waterfront property, and I can walk 15 minutes right in to the downtown core of Port Moody, or walk 20 minutes in to Rocky Point Park. It's the perfect balance of both quiet and tucked away in the trees, and the hustle and bustle of downtown Port Moody. It's more nature oriented than the other areas that I've been in before [Port Coquitlam & Coquitlam], so I like how I can explore. 
What I'm Like Outside of Work!
I like to work hard… so to be honest, I'm usually working… or working out! I love kickboxing (right now I'm at 30 Minute Hit!), going to the gym (shout out to Innovative Fitness in Pomo), running, yoga (I go to Kushala Yoga), hiking, and just generally getting my endorphins flowing. I just ran my first half marathon at Lululemon's Seawheeze, and am just starting to get in to running. 
When I'm taking a break, I'm usually cuddling with my weiner dog Bailey [team daschund!], spending time with family, cooking up new concoctions, or eating (aka stuffing my face with food). I love finding new restaurants and indulging. I'm also a coffee snob, and like to explore different coffee shops around the Greater Vancouver area.  
I'm also an avid traveller. Most recently, I've been to Paris, Portugal, Peru, Vietnam, Cambodia, Australia, Japan, New York, a US National Parks Tour, and Tofino. My recent travelling accomplishments are scuba diving in Australia's Great Barrier Reef, concurring Machu Picchu in Peru, and backpacking from South to North of Vietnam! My next trip planned is my honeymoon, which is hopefully somewhere sunny but a TBD location!